Watching Doctor Horrible Sing-Along Blog and The Guild last night on the big screen on Hollywood – a fundraiser for PathVentures organized by Whedonopolis.

It was a welcome break from the constant political barrage and my own concerns about our upcoming election. (Insert nervous, nailbiting photo here. ;>)
I'd been conditioned recently by the enormous crowds at ComicCon – this summer I'd already seen the first ever larger-than-life Doc Horrible showing – so I was somehow expecting a huge, loooong line. We got to the Regency Fairfax at 8:30p for a 9:00p showing, and there was only a smallish line, halfway past the Shoe Pavilion next door. It grew to be much longer later, but we were positioned quite nicely.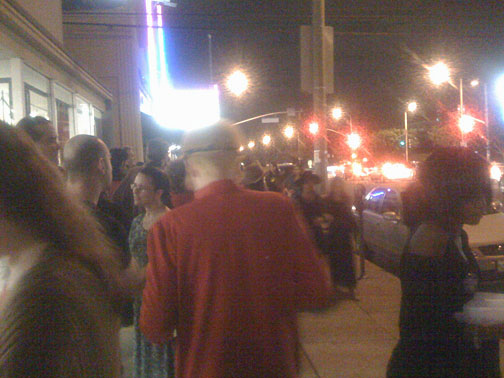 In line for the Doc Horrible/The Guild showing, behind a well-dressed evil Doc.
My little Evil League of Evil applicant & adopted handbag pet – the Sockubus (I won't link, so don't ask me) – insisted on coming to the show with us, and yet the minute we got there, that ungrateful little sockbitch started kicking and squealing to get out of my purse. I was afraid we'd attract too much attention, so I let her out and hoped that'd shut her up.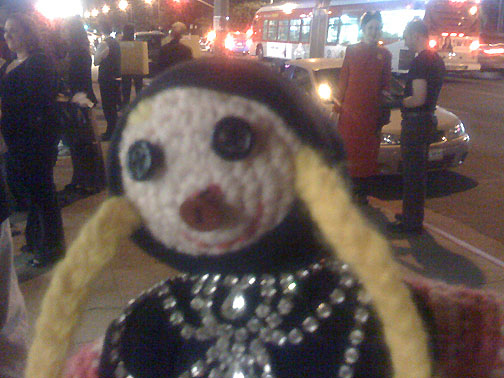 The Sockubus ready to suck some souls on Halloween.
Not content with getting to look at all the decked out revelers, Ms. Sockubus insisted on getting her picture taken with Evil Red Doctor Horrible – who, despite being incredibly evil herself, offered to hold her while I shot the photo. (Even super-villains apparently have a soft side for sockpuppets.) I believe Sockubus sucked the Red Doc's soul out while I snapped the photo, but I'm hoping she didn't notice 'til she got home. I'd have hated to spoil her evening.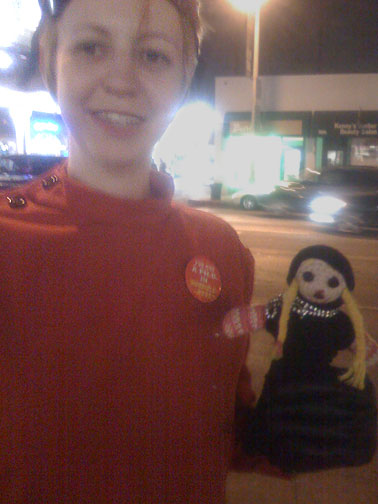 Kind Red Evil Doc holds Sockubus even as her soul is destroyed by the puppet in her hand.
Feisty favorite ELoE applicant Scarlett O'Harridan (created by Lady Brick) was on hand to liven up the line. We chatted a bit – I met Lady B. at the WGA strike Mutant Enemy Day at Fox in December last year, and saw her again at Pencil-Dropping Day at the Mogul's studios. She is one of my favorite whedonesquers – a veritable Ninja of Haiku, and a deadpan cartoonist.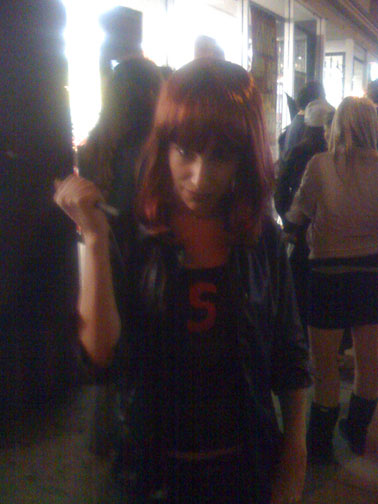 Lady Brick as her ELoE alter-ego, Scarlett O'Harridan.
I met whedonesque's jcs, there with her handsome partner, her costumed daughter and a flock of her daughter's friends. I knew she was a funny, smart lady from her posts, but she is also clearly a dear, as well.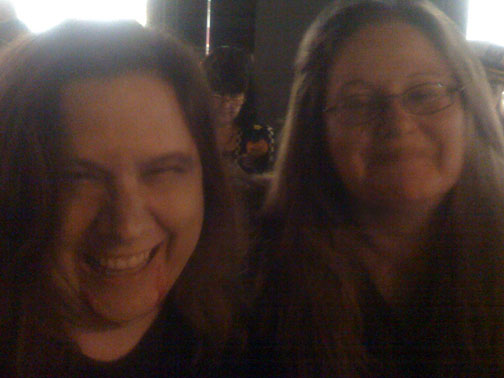 jcs – who I don't believe usually has a bloodied face – and moi.
Whedonopolis volunteers sold $1 DHSAB buttons down the line (well-made and clever), and others came a'vending with display posters explaining the contents of the favor bags, also on sale for $5 each. Raffle tix were sold for $1 each for prizes apparently including "Reaver Christmas ornaments" donated by Golden Apple Comics – so naturally I came on board for $20. Time ticked on and the 9:00p scheduled movie start-time came and went with no announcements or communication. Whedonopolis folks passing by the line had no information, until the line just started moving at around 9:30p.
We got in and went straight to the front, ending up in good middle section third-row aisle seats. Woo and the hoo – they were our ideal seats, and we got all chirked up again after suffering from Acute Line Lethargy.
The logo onscreen felt sufficiently… large.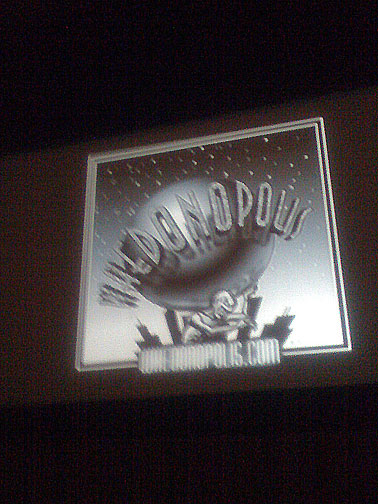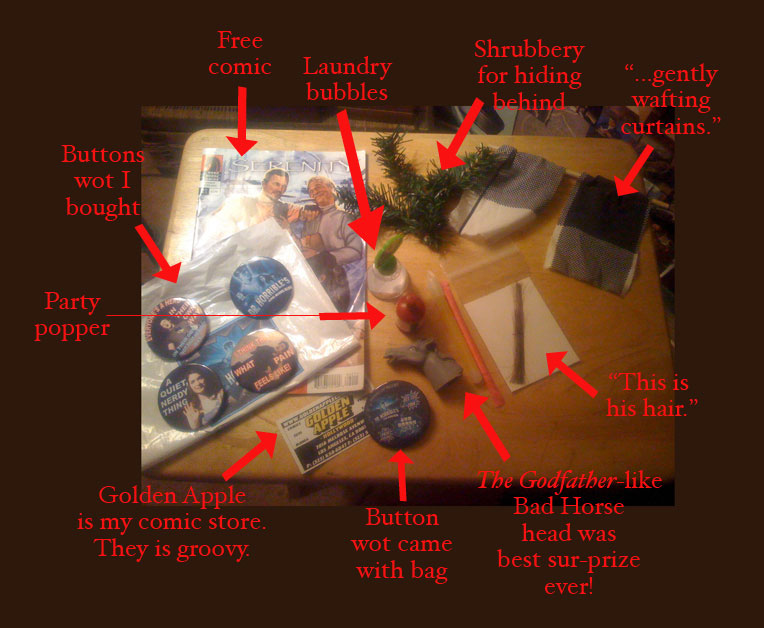 The stuff in our goody bag was pretty good – and the lil' Bad Horsehead is primo.
There was one more Doc item, which I've shot separately so you can read it: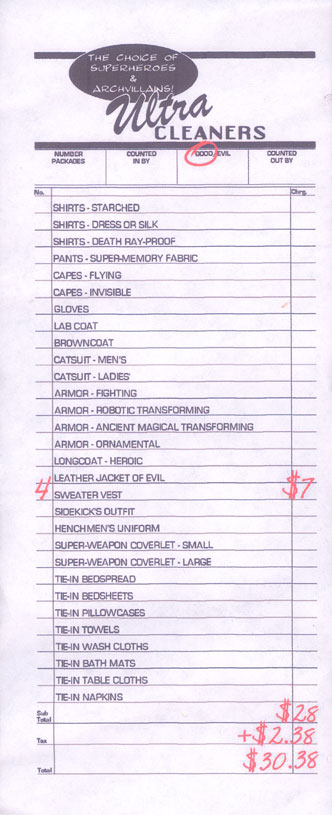 Another half hour wait while people were trundled in and popcorn and drinks and such sold, we were exhorted to buy the gift bags, and then the Whedonopolis folks came out to kick it all off. They talked about PathVentures and The Guild and Doc Horrible, and then introduced their special Halloween guest in a Lucha Libre costume, who removed her mask to reveal herself as the lovely & talented Felicia Day, star of both The Guild and heroine of DHSAB. She said a few words about the crowd and the charity – it was unclear if she would be staying for the evening, or if she had just popped in to intro the show. She was greeted with joyful huzzahs, and then The Guild began.
Hard to tell if the audience had mostly seen it before or not, but I thought it went over well and got plenty of laughs. Watching it on the big screen was pleasing, but it also revealed filmic flaws, and I longed to get a great big bundle of cash and give it to them so they can afford a slightly better production. It's beautifully directed and acted, and the wardrobe & sets look fine, but the lighting, sound and (digital quality?) could use a little upgrade. I'm sure it was never intended for the big screen, but it showed a bit. Still, I loved it, and look forward to Season Two with anticipation.
In the intermission, they held the raffle at such breakneck speed I nearly got whiplash trying to check my tickets. I'm sure the delay had set their schedule back, and there was a midnight showing of something else scheduled in the theatre, so rushing hadda happen somewhere, but the raffle flurry explains why more folks didn't squeal and holler when they won – I doubt most people even knew yet if they had. I won nothing, while others I don't care to name or speak to ever again won at least three items. Phooey, I blog, unless you give me the TPB of SugarShock, in which case we're fine.
I was unable to shoot much in the darkened theatre with my iPhone, which doesn't take kindly to darkness. I did see some folks dressed in large paper cartons, which I understood to be a washer/dryer combo, and numerous Docs and Captains, as well as the occasional groupie, ill-defined "slutty" outfits, and possible ELoE applicants. It wasn't always easy to tell who was wearing what, but leading colors were black, white and red, and Doc Horrible tees of one sort or another abounded. There was some guy near me, off to the right, who looked a bit liked the Ghost Who Walks or Dr. Manhattan, but all in white, and I could not figure out who he was at all… until it was cunningly revealed later.
The Doc began, and people were obviously familiar with it – dialogue came flying out from the audience, and folks were clearly looking forward to the first song. Bubbles flew when we hit the laundry room, and the singing was surprisingly sweet and harmonious.
I snapped a few of my favorite moments during the show.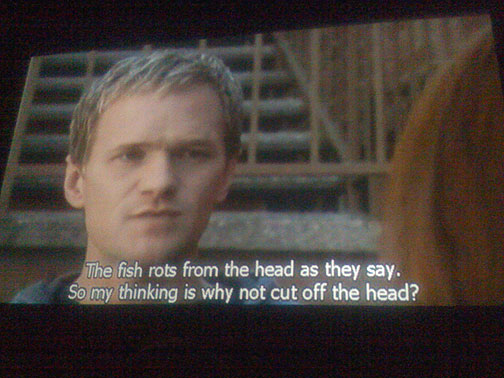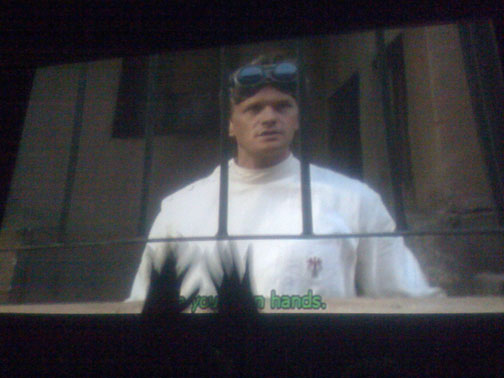 Someone in front hand-danced when NPH sang the "hands" bit.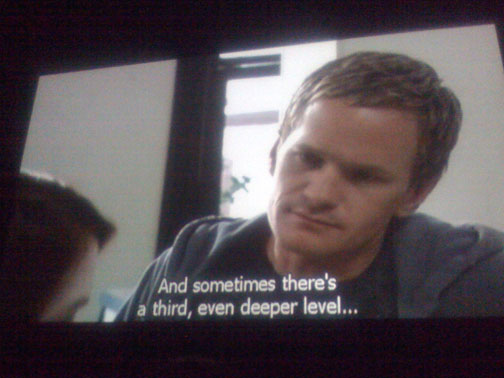 One of my favorite lines, especially since it's followed by "Like pie."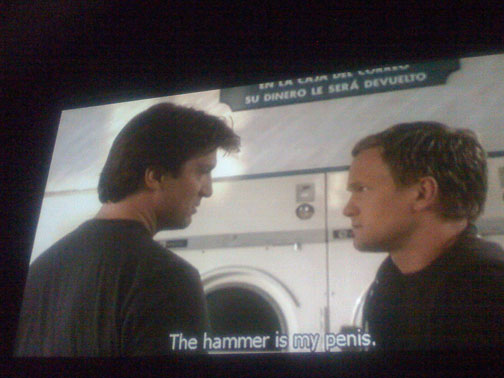 I'm sure you can imagine how the crowd hooted and hollered during le penis thingy.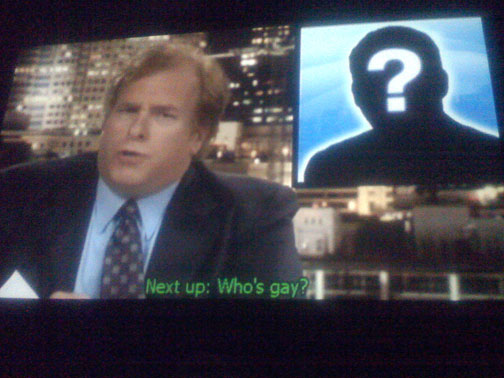 I especially like this, because NPH was outed and handled it so gracefully.
As the show neared the the death of Penny and the Doc's transformation, people got a little less boisterous, although there were groans and cries of "No, Penny, no!" and "Leave, Penny, run!" as the scene came closer.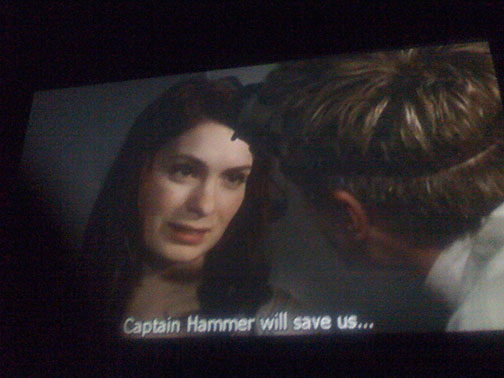 So painful to watch, even after so many viewings. Not just her death, but Billy's mourning and metamorphosis. The chorus of "Everything you always…" always makes me cry.
Some guy shouted out, "Screw you, Joss" after everyone had "Awww'd" at Penny's death – and it really hit a few of us right in the funny bone. Ordinarily, I'm not a big fan of the "let's curse Joss out for the stories we love to hear him tell" – but his delivery and the timing was just perfect, and I fell out.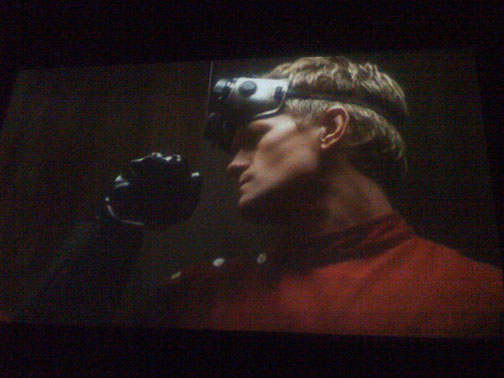 I just love this shot – chilling and beautiful. NPH really captures Billy's entire journey in this moment.
Just before the lights came up, the credits ran, and I noticed the white baldy-head guy walk up and position himself at the right-hand side of the stage, but I still didn't get it. As the Mutant Enemy logo started across the screen, the guy scurried across with him, shouting "Grrrr Arrgh" – and dawn, as we used to say in Boston, finally broke on Marblehead. Duh. ME Guy. It was beautifully done.
The lights came up, but they'd said earlier to stay in your seats for a sur-prize. I'd thought then that maybe someone else would be gracing us, but it never occurred to me that Joss, Zack, Jed, Maurissa, Nathan and Felicia would all appear afterwards to talk to us. They didn't have a whole lot prepared to say, but I think the basking and the hollering and the laughing at each other – and their costumes – was enough, without a lot of fancy talk. Folks were just glad to see them, as you can tell by this video captured by someone seated slightly off to the left of us. Nathan mentioned that they'd been over at Jed's house recording some of the songs for the DVD commentary.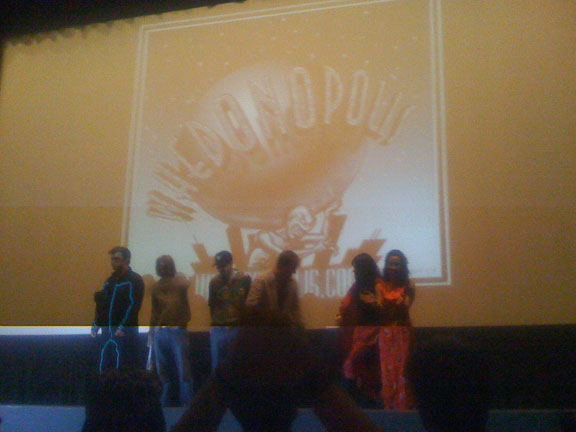 That odd halfway-down lighting effect comes from a gazillion flashes going off, and the way their light broke on the screen & stage. Peculiar, but it kept happening.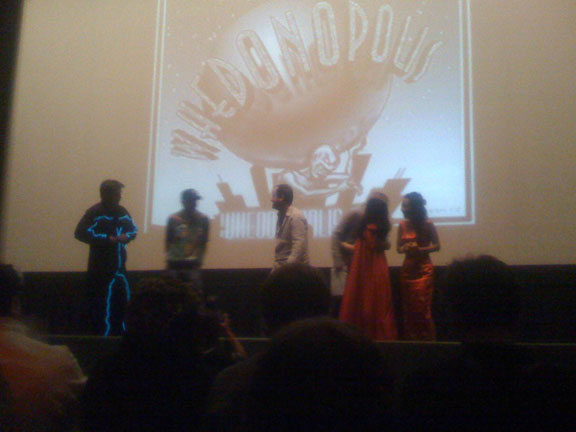 You can hear in the video linked above, Zack was "Magnum, P.I." (though I actually thought he was this guy from DHSAB):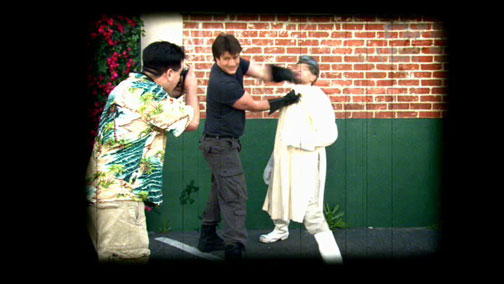 Nathan was something called "Ninja Roach" (ETF: "Ninja Ropes", per b!X, which makes much more sense if you check it out) which he mentioned may play some role in the upcoming DVD commentary, and which Jed said had to do with an inside joke on DHSAB and iPhones – you can see Nathan's ropeiosity a little better here: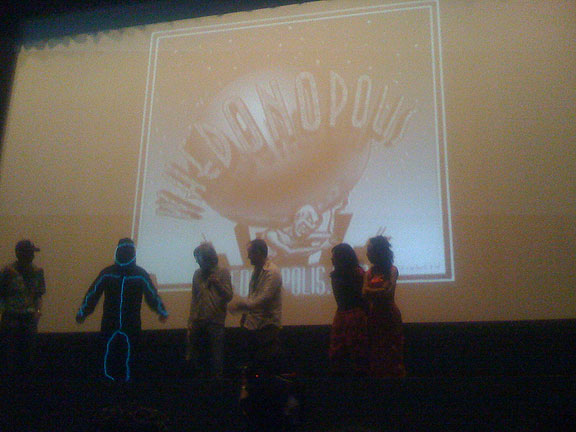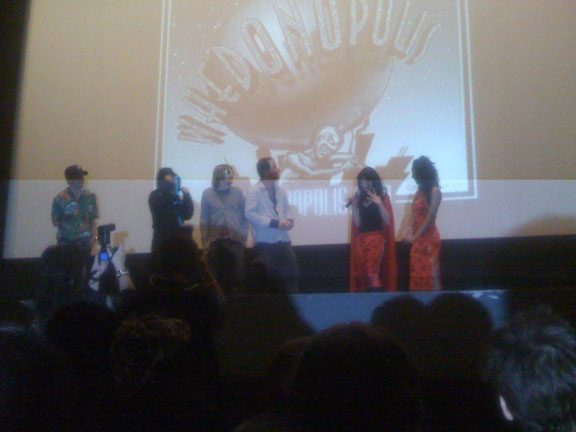 Jed was Kurt Cobain, Joss was either himself or his evil twin Ross (!!), Felicia was a Mexican Wrestler, as mentioned above, and Maurissa announced that she was Chinese.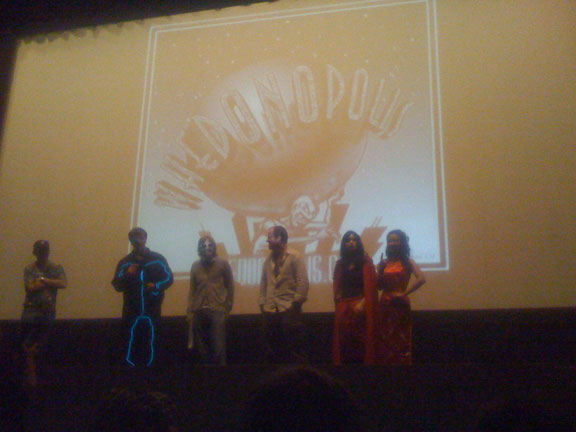 When they were done talking, and everyone started to leave, Joss mentioned that Alan Tudyk was in the audience – there was a kindof fangurl outcry, and I thought possibly he'd done it to divert the large group of fans bearing down on he and his gang heading offstage. As we left, I saw Alan sitting in the audience with a friend – being absolutely blinded by the barrage of flash cameras going off in his direction – and Jeff "Vork" Lewis standing up not far from him in the same row.
We decided to head out and skip trying to talk to anybody in the J, Z, J, M gang, much as that might have seemed interesting – it was too swarmy and I felt bad for Alan's flash-blinded eyes and I just wanted to leave after so many hours there. But as we headed out of the auditorium and into the lobby, I looked to my right – and right next to me was Jed Whedon, standing in what seemed to be a special photo-shoot area with Maurissa and Felicia and I dunno if anyone else was there yet.
Ordinarily, I'm a little bit diffident about pestering entertainment people – I've introduced myself to a couple of people at events, especially Joss at a couple of Fans4Writers things – but part of me just wants to leave them alone, and it was late, and crowded, and I don't like to intrude.
But since b!X wasn't able to come to the showing, he'd happened to mention that if I did bump into Jed and Maurissa at the show, he'd appreciate it if I could manage to pass on regards from him, since he'd done the Evil League of Evil site for them, and they would certainly know who he was.
So I (I hope) gently got Jed's attention, and introduced myself and passed on b!X's message, and they certainly perked up a little at hearing about b!X and Maurissa in fact came over 'cause she heard me say "OneTrueb!X," They were both sweet, and also recognized my "QuoterGal" call name – which was special, too. I said, "Well, it was really pretty nifty of you guys to all come over to watch the show with us…" and Jed said, "Well, you get drunk on Halloween, whaddya gonna do?" And I said, "Go home and make a video and post it, so we can write poetry about it" and they laughed.
It was fun, and was a nice little ending to a good evening. I wished I could have told Felicia how much I have enjoyed The Guild, since I really think she's one peach of a lady, but I felt like I had intruded enough, and so got outta Dodge and headed off. I didn't get a photo of any of them when I was up so close, because sometimes you reach a point in conversation when it just feels rude, so… that part's just all tucked away in my memory, and that feels fine, too.
Doctor Horrible lives on. Without being too much of a FanDork, I think I can safely say I look forward to more episodes in the Doc Horrible serial.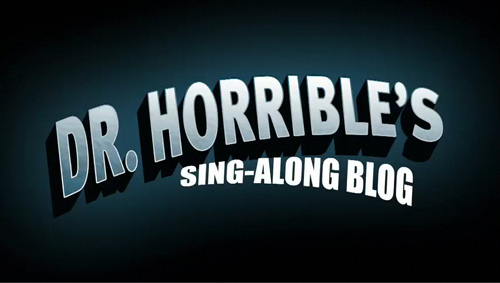 Sockubus was all tuckered out, too, and when she got home I saw she was missing a button eye and her nose was hanging by a thread, but she just curled up in her coffin and went to sleep. I think she enjoyed it, but probably gorged herself a little too much on juicy FanSouls.