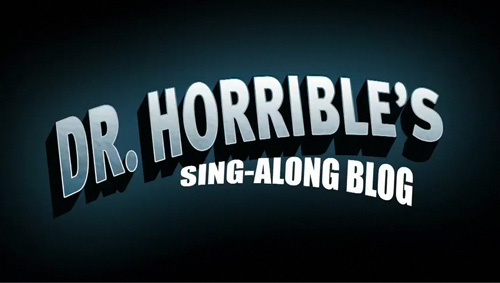 It's my inaugural blog-blerg – well, on my own site, anyway – and I'm posting about a Sing-Along Blog of the Doctor Horrible sort. Joss Whedon and friends (brothers Jed and Zack and Maurissa Tancharoen) have written a internet three-part musical extravaganza that will start to hit the internet-waves starting on July 15th (each of the three episodes will be about ten minutes long.)
Joss has called it "…the story of a low-rent super-villain, the hero who keeps beating him up, and the cute girl from the laundromat he's too shy to talk to…" and it "will star Neil Patrick Harris as Dr. Horrible, Nathan Fillion as Captain Hammer, Felicia Day as Penny and a cast of dozens."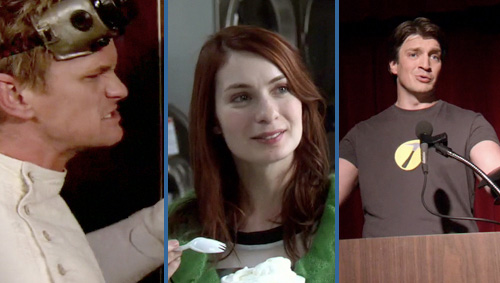 Initially, the episodes will be streamed on the Doc Horrible site, and later they'll be removed and made available for download for a "nominal fee" – eventually they will all be released together on DVD.
The teaser went up just a few days ago:

Teaser from Dr. Horrible's Sing-Along Blog on Vimeo.
Here is Joss' Doc Horrible shed-ule:
ACT ONE (Wheee!) – will go up Tuesday July 15th.
ACT TWO (OMG!) – will go up Thursday July 17th.
ACT THREE (Denouement!) – will go up Saturday July 19th.

All acts will stay up until midnight Sunday July 20th. Then they will vanish into the night, like a phantom (but not THE Phantom – that's still playing. Like, everywhere.)
Written during their down time during the Writers Guild of America strike of '07-'08, Joss has said this new delivery method is intended to "change the face of Show Business as we know it" and:
"The idea was to make it on the fly, on the cheap – but to make it. To turn out a really thrilling, professionalish piece of entertainment specifically for the internet. To show how much could be done with very little. To show the world there is another way. To give the public (and in particular you guys) something for all your support and patience. And to make a lot of silly jokes. Actually, that sentence probably should have come first."
They've made banners and buttons for use on your site:

And there are are a bunch of other groups and sites, official and otherwise, for your education and amazement – here's a fairly comprehensive list:
This is looking so fine – not only do I look forward to watching this and learning all of the songs to annoy and mystify my friends, but I'll enjoy picking out the L.A. locations when they're recognizable – because that's what nerds and geeks do.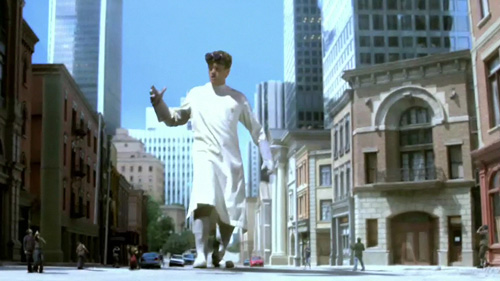 Tags: Captain Hammer, Doctor Horrible's Sing-along Blog, Felicia Day, Hero, Heroine, Jed Whedon, Joss Whedon, Mad Scientist, Maurissa Tancharoen, mushortio, Nathan Fillion, Neil Patrick Harris, Penny, Superhero, web musical, webisodes, Zack Whedon